I think this would be the most accurate phrase to describe how I truly like these two Korean guys :D

one is a very good looking Hallyu (korean wave) actor while another is a very talented main vocalist cum songwriter for one of the most successful k-pop groups.
this is not another lengthy
'Lee Min Ho specia

l

'
so don't worry ya.hee. am writing this because both guys are preparing for their comeback; so as a
Minoz
and
Shawol
it's normal to anticipate their comeback, isn't it?
according to a fan account, Mino filmed at the
Floating Market
let me give you a brief introduction of City Hunter
♫♪
Mino & his co-star Park Min Young
(Min Young is a year older than Mino and they once acted together in I am Sam)
Lee Min Ho (Personal Taste, Boys Over Flowers) is Lee Yoon Seong in the Blue House national communications team, Park Min Young (Sungkyunkwan Scandal, I am Sam) is previous Judo player and current Blue House bodyguard Kim Nana, Lee Joon Hyeok (The Three Brothers,Worlds Within) is the best elite prosecutor Kim Young-joo while KARA's Goo Hara plays the president's daughter.
thanks to Minoz Thailand for the pic (altho it's blurry), at least I know that he's okay with his Song Il Guk look alike bodyguard.hee
this is going to be Mino's next drama after
'Personal Taste'
known as a young actor with very good eye expressions, his comeback is surely anticipated by Minoz and k-drama lovers. City Hunter is scheduled to air on
25.05.2011
. *clap clap clap*
I can't wait!
after all,
he's my Mino :)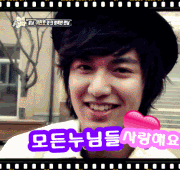 the shy Mino after winked at camera :p
2) the 1990er Kim Jonghyun underwent a surgery on 17.01.2011 on his left leg at a hospital in Seoul.

He previously injured his left ankle in October of 2010 in Jakarta, Indonesia.
after the incident, he stopped dancing for a while and since then he either performed sitting on chairs/standing. Shawols as well as Blingers believe that it must be hard for him as
SHINee
is a dance group.
known as one of the idols with the best vocal, he always worked hard in everything he did :) plus, he also involved in SM's unit project known as SM The Ballads together with Suju's Kyuhyun, Trax's Jay & rookie Jino.

he's spotted near the SM building
(SHINee is under SM management) on
24.03.2011
and he's looking good. honestly, I'm very HAPPY to see his recent pic. altho it's blurry (again)! nvm, I know what it feels when meeting with a fav star (because I took more blurry pics of Mino when he came to M'sia in 2009. I was star-struck!hee)
Jjong together with other SHINee members began their career at very young age; they officially debuted in 2008 (jjong was only 18 at that time; 19 in lunar year) and his comeback to the
shining SHINee
is obviously something that I'm anticipating :) i really hope i won't wait for too long to see him again; because I'm missing my jjong :(
another fan service :)
the shy Jjong after sang Wheesung's Insomnia :D

I wish both of them SUCCESS for their comeback!!
lots of

♥

for them