having fun with my younger sisters

It's been more than two weeks I haven't written anything. Blame it on the 2-week holidays that I had.hehe. Speaking of Eid, I had a lot of fun spending time with family & cousins.
Eid is an event that I always anticipate; because it's full of happiness and joy.
I wish I could share my stories earlier on how I prepared for Eid but the time has flown too fast; I had the busiest moment at home. Anyway, today is already the 10th day of Eid and I'm back in Kuala Lumpur; struggling with the classes & scheduled tests (oh!NO!!).
home-made cookies.they may look less presentable but they are yummy.hehe

It's weird enough, although I was busy visiting relatives' houses and entertaining guests at home, I still had time watching full episodes of
Brilliant Legacy @ Shining Inheritance

.
Well, taking into account how high hope I had to watch the series, I completed watching the total of
28 episodes within 4 days
(phew~ you can imagine how determined I was to finish them all.this is what we meant by a truly K-drama addict.ehe). Satisfied with the series, I'd like to write a brief review and comments on it.
bright casts!!


As an introduction, Brilliant Legacy is about a daddy's girl named Go Eun Sung who were living as a family with her father, autistic brother named Eun Woo, stepsister named Seung-Mi and a stepmother. Something big happened to the family (but I refuse to tell you what happened to them.hehe...simply because I hate when people revealing too much on the storyline of dramas/movies before I watch them). And in order to appreciate the value of the storyline, I recommend you to watch it. It's a definitely must-watch series (as compared to My Fair Lady or Dream). When the 'big thing' happened in the family, Hwan, Park Jun Se and Hwan's family came into picture. The storyline is basically simple but if you try to forward/skip few scenes, I'm afraid you'll miss something important in the series. So, my advice; Watch it slowly.hehe. Patience is the best POLICY.
from left: Chae Won, Seunggi, Hyo Joo & Soo Bin
Rather than commenting on the storyline, I prefer to comment on the characters in Brilliant Legacy.


She's a next door girl that any guy would fall in love with.
Not simply because she's pretty and cute, but she has this bright personality. Being
a daddy's girl,
we would know that she loves her dad very much; it's like without her dad her spirit will be taken away. After the
'big thing'
happened in her life, she struggled with the
WORLD
. Money; which she never thought it might harm her turned into something which is cruel and harmful. Because of money, her stepmom kicked her and her autistic brother out of the house and she had no choice but to earn for their living. But thanks to the cruelty of money, she met someone nice, warm and charming, Park Jun Se. Things did not turn up so well for her in the beginning once she met with another guy named Hwan, a 'chaebol'. Her life is miserable enough after meeting that guy. One after one incident happened including the loss of her brother, Go Eun Woo.
It was sad when your own blood brother is nowhere to be found.
Search after search ended up unsuccesfully but Eun Sung never gave up. One day, she met a grandmother who happened to be Hwan's grandmother and this is the turning point of the growth of love between Eun Sung and Hwan. It's a cliche actually because the story of a man and woman fall in love after fight or hatred is undeniably common.ehe. On top of it, I'd say that
Eun Sung's strong will and determination to find her brother is something that has moved my heart.
She could do anything to protect her brother; she earned money from few part-time jobs just to make sure her brother will live comfortably once she found him, she's willing to leave the man that she loves in return of her brother etc.
Personally, I like Han Hyo Joo's acting.
It's natural;
when
she's sad she cried her heart out
, whenever
she's happy she would smile and laugh wholeheartedly together with her smiling eyes.
Her chemistry with Soo Bin was great; while with Seunggi, both looked adorable. No wonder she became a hot commodity after the series. She's pretty, chic (i must say she has a very good sense of fashion) and of course talented. I'm looking forward to watch her again in
Soul Special
featuring
K.Will
and two other casts.
I'm not sure if every
'chaebol'
(2nd generation from wealthy family) is arrogant like Hwan and Goo Joon Pyo.hehe. In the beginning of the story, the character of Hwan was not so appealing to me. Spoilt with money of her grandmother; he never cared about other feelings. Throwing money at someone's face, playing around with others heartlessly are common things. Fortunately, the moment Eun Sung started living with Hwan's family, Hwan slowly turned into someone else. Quarreling with Eun Sung almost everyday, hating her for being chosen to be a new heir of his grandmother's fortune is understandable. However, day by day he developed special feeling for Eun Sung; getting jealous over the relationship between Eun Sung and Jun Se made him realized that all he needs was Eun Sung and that was when the love story came into picture. However, the presence of Jun Se and Seung-Mi made everything complicated; this is how a rectangle love begins. Spending time with Eun Sung has changed Hwan into a new person; he was able to understand her grandmother's feeling, the importance of money to others and the most important thing is that he could appreciate others. When the storyline started focussing on the love felt by Hwan, I started to understand why Hwan was cold and arrogant then. The death of his father which he believed it was caused by him (her dad met with a fatal accident in order to save him) is the reason why he started to become a rude, bad person. But deeply in his inside, he's just a nice guy, with lots of love to share.
When Brilliant Legacy premiered, I was surprised because one of the casts is Lee Seunggi. I love watching
2 Days 1 Night
and one of the hosts is him. The fact that I know he's not an ordinary celebrity (he's a singer also) plus his intellectual character in real life, I hoped he would do well in this series. As I expected, the drama is a success (well, the ratings climbed up to 40%!!! Wow! the weekend dramas always did well.good for them!) and Seunggi's acting is good. I didn't feel much about character of Hwan in the beginning but later it developed especially when he started to like Eun Sung. My favourite scene would be when Hwan chased Eun Sung in the bridge and telling her that he trusts, likes and wants Eun Sung along with his teary eyes. Seunggi did a very good job in this scene and it moved my heart. Speaking of the best moment between Eun Sung and Hwan, I also like the scene whereby Eun Sung and Hwan went for a date (just like when Jandi wanted to have a date before leaving Joon Pyo; Eun Sung did the same for the sake of her brother). The scene when Eun Sung whispered her goodbye to Hwan enough to make me down. I never knew that seeing one's back can be really painful.isk. Overall, Seunggi can improve his already good acting. Whenever I watch him in 2D1N, I will definitely remember him as Hwan.ehe
A charming, helpful and kind man who can win any women's hearts (at least mine.ehehe). I usually didn't fall for the nice guy characters (eg. BOF's Ji Hoo, Fullhouse's Min Hyuk, My Girl's Lee Junki etc) but this time around, it's a bit different. I just love Jun Se's character!!! Rather than Ji Hoo being a firefighter for Geum Jan Di, Jun Se oppa's actions are stronger than words. Helping Eun Sung without asking for a return, and being honest with Eun Sung on how he felt for her made him appears to be too good to be true.ehehe. I love the moment when he said to Eun Sung,
"I don't want to be your oppa anymore, I want to be your MAN";
eventhough his love was rejected by Eun Sung. You know what, I would definitely know from the very beginning that he would be rejected but I still had a hope that in the end, Eun Sung would accept him. A guy like him is one in a million, his honesty with himself, with others melt my heart away; so I was thinking why didn't Eun Sung??hehe. But, this is not a sad ending (because if Eun Sung chose Jun Se, it could be considered as a sad ending, but not for me of course. If I'm the scriptwriter, I will put Eun Sung and Jun Se together.ehe). I forgot to mention that Jun Se comes from a rich family, but he lived happily with his own path; he ran a restaurant (cute.ehe). The love for Eun Sung doesn't mean that he wants to have her only, love for Eun Sung is to protect her. That's why when Hwan started to show some interest in Eun Sung, he warned him not to hurt her feeling. How did the love could bring hurt to Eun Sung? You must watch it.ehe. Like I said, it's a rectangle love story. Besides Hwan, Jun Se, Eun Sung, there's another woman-Seung Mi.
When I watched the teaser of the drama, I thought that this guy has a charm. Although he's not as young as Lee Seunggi (If I'm not mistaken he's 33/34; I've done some research on him.ehe). True enough,
he has the CHARM.
His acting skill is at par with his 10 years experience. I was surprised to know that he has 10 years experience without me noticing him, but later it makes sense as he starred most in historical dramas previously. I consider a good actor or actress when they are smart in making the right face expression and gesture in the right time (that's why I like Mino.ehe), and Soo Bin is one of them. He has an advantage to be loved by audience as he played a kind character (as I mentioned earlier, he could win all women's hearts). He also gained stardom due to this drama as once I typed Bae Soo Bin on the youtube, countless vids will come out (it makes my stalking job easy.ehe. don't worry, I'm still Mino addict.haha). And speaking of the best moment between Eun Sung and Jun Se oppa (lucky enough he's older than me, unlike Mino.isk.hehe), I'm thinking of the scene whereby Eun Sung consoled Jun Se by competing in a bicycle race (cute!ehe). There are many other moments (of course) but without love and solely oppa-dongseng relationship between Eun Sung and Jun Se, those moments cannot be compared with Eun Sung-Hwan moments.
But, if you ask me what will be my choice between Hwan and Jun Se, I'd definitely choose Jun See.
Thanks to Soo Bin's acting which was a way much better than Lee Seunggi. He carried the nice guy character better than anyone else.
She's the stepsister of Eun Sung. She's ordinarily a good person but
due to her greed
to have Hwan (who is her oppa; just like Eun Sung and Jun Se, Hwan and Seung-Mi are also in oppa-dongseng relationship), she turned into someone else. She did everything that no one would believe she would do but to get Hwan, she could do anything including betrayed Eun Sung who has always been nice to her. Her dark side obviously shown when Hwan started to show interest in Eun Sung and being influenced by her mother,
she is no longer Seung Mi that Hwan used to know.
Although she's not a new actress but she slowly climbs the fame. I believe she started to be noticed since Painter of Wind. One drama after another (after she involved in Brilliant Legacy, she proceeds with My Fair Lady!), and I'd say her acting is okay.
Compared to Brilliant Legacy, her character in My Fair Lady as a cheerful girl is better.
However in my opinion,
she did a great job in sad scenes particularly crying scenes.
The most rememberable moment is when she pleaded Eun Sung to save her; as she would die without Hwan (if you watch this drama, you would feel how important Hwan to Seung-Mi. It's kinda sad living a life like hers, relying too much on someone else). For me, she's pretty and looks fresh and of course she has a bright future if she continues improving her acting skills.
honestly, I love Eun Sung & Jun Se oppa better.hehe



Out of 10, I rate this drama 8/10 based on the storyline and characters. I recommend you to watch this drama. 28 episodes may sound lengthy and draggy but trust me, there's a lot of things you can learn from this drama :)

extras:
there are tons of updates of Lee Min Ho etc but I can't afford to write everything (I'm having post-Raya fatigue.hehe). Let's pics and gifs speak.

1) More NGs (bloopers) of Worlds Within came out after the Worlds Within promotion in Japan (only Hyun Bin attended, without SHK). This gif is one of the new released Ngs and it clearly shows how close these two lovebirds are.ehe.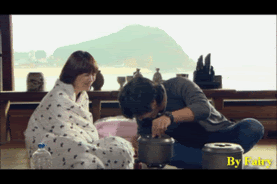 2) On Sept 25,
Lee Min Ho
held a
Trugen fanmeeting
. These are few pics (melting~). I love his interaction with kids (in any event, kids seem comfortable to be around him.ehe)
3) These are few gifs of
Lee Min Ho before the existence of Goo Joon Pyo
(in my fav variety show, The Star Golden Bell Challenge). I'm hoping to see him in variety shows like SGB again; miss his boyish attitude!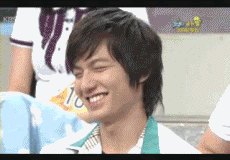 4) Omo! Mino winks.hehe (in Cass & Levis Signature photoshoot)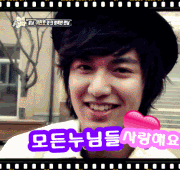 Take care of yourselves people!
Have a great week (i pray i will have a great one.ehe)