Well, lately lots of things happened to people around me. And I'd like to express how sorry I am.
First of all,
my condolence
to my friend,
Hafiq
who just
lost his beloved grandma
last Sunday.
Al-Fatihah
. My beloved roomate,
Kinah's beloved father
is being hospitalized since last Saturday. I hope all of you can pray for her father's health. If you do, may God grant your prayers.
Amin...
My friends;
Herda & Syiqin
just discharged from 7 day quarantine (since H1N1 broke out, the doctors tend to give one week MC). Alhamdulillah, they are in good condition now.
Yesterday, my younger sister called & informed me that the money she and few friends collected from lecturers & individuals were
stolen
!
Those monies are collected for the
use of the orphans
(in Perak). Can you imagine;
after putting all the hard work and effort
to collect them; they were gone without a single cent left? Few hundreds ringgit were gone just like that and the orphans need those monies.
Do the thief(s) have a heart?
Whoever he/she/they are; they should remember that it is a great sin to misuse orphans' properties. Only
GOD
knows who
YOU ARE.
K-pop world has its up and down. Recently, a controversial issue came out as to few phrases written by the leader of
2pm
-
Jaebeom@Jay
in his Myspace account 3 years ago (3yrs?only after 3 yrs this issue comes out?wow!this must be a conspiracy to take him down). Btw, those who are following the k-pop music, they would definitely know who
2pm
is.They are one of the hottest boybands in South Korea.if you don't know anything about them, feel free to google 2pm. hmm..I don't think I should write in details what he wrote in his Myspace but the important thing is that no matter what he's written about Korea@Koreans, those words shouldn't be interpreted literally. What the phrases meant might be different from what the netizens thought it might be. Those words written by him may not indicate that he has a grudge/hatred over Koreans/Korea but just
to express his unpleasant feeling he had during his trainee days
(one thing I respect about Korean boy/girl band/group is that they need to be trained, supervised & monitored for quite a long period before they debut). We can presume the training period was tough enough for him and the unpleasant words came out from him can be understood as to express his feeling. Unfortunately, I'd say he's not strong enough to hang in there; until everything slows down.
Jaebeom who is a Korean American officially quitted as the leader of 2pm and he went back to Seattle.
I'm pretty sure my high school friend, Aishah needs sometime to heal her broken heart over this Jaebeom thing (she's a big fan of 2pm). The moral of the story;
think first before you do anything.
And of course, we cannot undermine
the power of Netizens!!
They are hated by many (not only 2pm fans) at this moment. But of course,
the big fans of 2pm will definitely hunt them down!
(i just can't believe that there is this petition put forward by the netizens asking for Jaebeom to commit suicide.
Are they crazy?
)
Influenza A H1N1
is spreading without knowing who their victim is. It was reported that
Kim Hyun Joong
is tested positive! He is currently held at a medical center in Tokyo, Japan (he's diagnosed with H1N1 after the Boys Over Flowers Yokohama Event and there are reports that he could stay there for up to a month). Get well Soon JiHoo sunbae!
PART 3
Lee Min Ho

is coming to Singapore on October 10.
arghhhhhhhhhhhhhh!!!!
When I first read the first post about it in the Lee Min Ho Soompi, I was shocked (of course!) and extremely happpyyyyyyyyyyy.... but why Singapore? eh.nope.let me rephrase my sentence.hehe. Why only Singapore?
Come to Malaysia!!!
I'll definitely welcome him with my
warm hug
.
*nose-bleeding*
hehehehe. hmm...I wonder if I can go & meet him eye to eye in Singapore. OMG!
*excited*
Teaser for

Cass **** CF

is out! the chemistry between

Mino & Dara of 2NE1

is awesome.

Hot,extremely hot

.hehe. I love the playboy Mino here. kewl. I'm sorry I cannot upload the teaser here (due to religious sensitivity) but these are few gifs to share.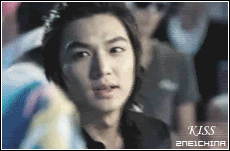 credit as tagged


Mino
is appointed as a
Unicef ambassador
. It's a good thing he involves in such a programme. Keep up the good work Mino!!


more latest photos of him *nose-bleeding*


BOF Yokohama Event
Japanese Mag

how can you not love him?hehe