One after one is dropping their chambering, bt I'm still sticking to my ambition & mission; completing my pupilage period no matter how hard it will be, no matter what it takes. I'm struggling! yes, I am. not with the heavy workloads (so far, i can bear with it) but am struggling with my ownself. People keeps asking me whether or not I did/do apply for government post. The answer is
NO
. I was fluttered when one staff at my office asking me, "Are you anti-govt?".
OH-EM-GEE!
no, I'm not. Although I hv my own faith in politics but I never consider myself as an anti-govt! It's just that I want to be an Advocate & Solicitor & not just a Federal counsel/legal officer etc.I want to be admitted to the Bar. And the sole way to make it happen is by completing the 9 month of chambering. Because I always wanted to be a
LAWYER.
& I mean it literally. However,I'm happy for those who already chosen their paths; dropping chambering is not the
END
of it. Of course!hehe. To my good friend,
Nabilah Nizam
...good luck Chinggu! I know how good you are; hopefully one day we'll meet up at the Honourable Court. And good luck for others (only mention Nab in specific.hehe) Oh! I miss my uni-mates-in bracket-my good friends
DAMN
so
MUCH!
Darls...looking forward to meet you all the soonest I can.hehe.
p/s: my fb is turning into
an unofficial web of Personal Taste.
well, I cant stop myself from uploading the beautiful pics of Gae In & Jin Ho.hehe. And yep, my bf is getting sick of me...hahaha. Sorry dear~
with this little confession & blah blah thing,
I leave you with sweet-Gae In-Jin Ho-moments gifs
and captures (in ep. 9 & 10)
have fun :)

holding hands odw back to Sanggojae :)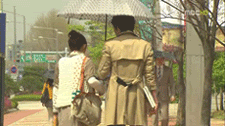 sharing the same umbrella & walking in the RAIN! sweet!



cam-whoring!haha. my fav!